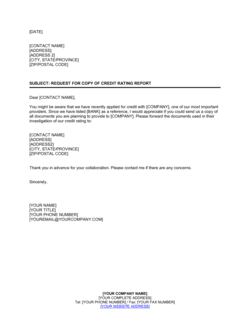 Request to Bank for Copy of Credit Report Template
This request to bank for copy of credit report template has 1 pages and is a MS Word file type listed under our finance & accounting documents.
Sample of our request to bank for copy of credit report template:
OBJECT: REQUEST FOR COPY OF CREDIT RATING REPORT Dear [CONTACT NAME], You might be aware that we have recently applied for credit with [COMPANY], one of our most important providers. Since we have listed [BANK] as a reference, I would appreciate if you could send us a copy of all documents you are planning to provide to [COMPANY]. Please forward the documents used in their investigation of our credit rating to: [CONTACT NAME] [ADDRESS] [ADDRESS2] [CITY, STATE/PROVINCE] [ZIP/POSTAL CODE] Thank you in advance for your collabo
All the Templates You Need to Plan, Start, Organize, Manage, Finance & Grow Your Business, in One Place.
Templates and Tools to Manage Every Aspect of Your Business.
8 Business Management Modules, In 1 Place.