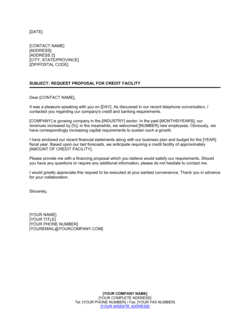 Request Proposal for Credit Facility Template
This request proposal for credit facility template has 1 pages and is a MS Word file type listed under our finance & accounting documents.
Sample of our request proposal for credit facility template:
OBJECT: REQUEST PROPOSAL FOR CREDIT FACILITY Dear [CONTACT NAME], It was a pleasure speaking with you on [DAY]. As discussed in our recent telephone conversation, I contacted you regarding our company's credit and banking requirements. [COMPANY] is growing company in the [INDUSTRY] sector. In the past [MONTHS/YEARS], our revenues increased by [%]; in the meanwhile we welcomed [NUMBER] new employees. Obviously, we have correspondingly increasing capital requirements to sustain such a growth. I have enclosed our recent financ
All the Templates You Need to Plan, Start, Organize, Manage, Finance & Grow Your Business, in One Place.
Templates and Tools to Manage Every Aspect of Your Business.
8 Business Management Modules, In 1 Place.