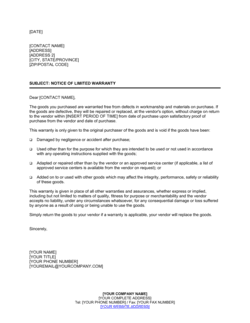 Reply Notice of Limited Warranty Template
This reply notice of limited warranty template has 1 pages and is a MS Word file type listed under our sales & marketing documents.
Sample of our reply notice of limited warranty template:
OBJECT: NOTICE OF LIMITED WARRANTY Dear [CONTACT NAME], The goods you purchased are warranted free from defects in workmanship and materials on purchase. If the goods are defective, they will be repaired or replaced, at the vendor's option, without charge on return to the vendor within [INSERT PERIOD OF TIME] from date of purchase upon satisfactory proof of purchase from the vendor and date of purchase. This warranty is only given to the original purchaser of the goods and is void if the goods have been: boxshadowdwn Dama
All the Templates You Need to Plan, Start, Organize, Manage, Finance & Grow Your Business, in One Place.
Templates and Tools to Manage Every Aspect of Your Business.
8 Business Management Modules, In 1 Place.