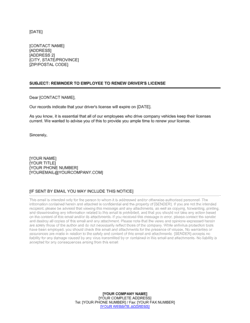 Reminder to Employee to Renew Drivers License Template
This reminder to employee to renew drivers license template has 1 pages and is a MS Word file type listed under our human resources documents.
Sample of our reminder to employee to renew drivers license template:
OBJECT: REMINDER TO EMPLOYEE TO RENEW DRIVER'S LICENSE Dear [CONTACT NAME], Our records indicate that your driver's license will expire on [DATE]. As you know, it is essential that all of our employees who drive company vehicles keep their licenses current. We wanted to advise you of this to provide you ample time to renew your license. [YOUR NAME] [YOUR TITLE] [YOUR PHONE NUMBER] [YOUREMAIL@YOURCOMPANY.COM] [IF SENT BY EMAIL YOU MAY INCLUDE THIS NOTICE] This email is intended only for the person to whom it is addressed
All the Templates You Need to Plan, Start, Organize, Manage, Finance & Grow Your Business, in One Place.
Templates and Tools to Manage Every Aspect of Your Business.
8 Business Management Modules, In 1 Place.