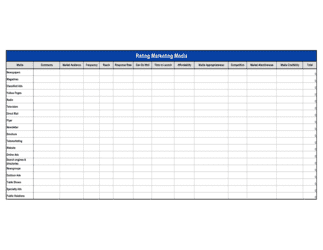 Rating Marketing Media Template
This rating marketing media template has 1 pages and is a MS Excel file type listed under our sales & marketing documents.
Sample of our rating marketing media template:
A worksheet that helps you determine which media is most appropriate for your needs. It compares various medias such as website, magazines, flyers, newsletters and such based on market audience, frequency, reach, response rate, time to launch, affordability and media appropriateness.
All the Templates You Need to Plan, Start, Organize, Manage, Finance & Grow Your Business, in One Place.
Templates and Tools to Manage Every Aspect of Your Business.
8 Business Management Modules, In 1 Place.