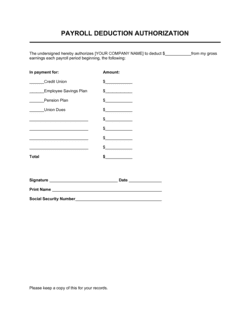 Payroll Deduction Authorization Template
This payroll deduction authorization template has 1 pages and is a MS Word file type listed under our human resources documents.
Sample of our payroll deduction authorization template:
PAYROLL DEDUCTION AUTHORIZATION The undersigned hereby authorizes [YOUR COMPANY NAME] to deduct $ from my gross earnings each payroll period beginning, the following: In payment for: Amount: Credit Union $ Employee Savings Plan $ Pension Plan $ Union Dues $ $ $
All the Templates You Need to Plan, Start, Organize, Manage, Finance & Grow Your Business, in One Place.
Templates and Tools to Manage Every Aspect of Your Business.
8 Business Management Modules, In 1 Place.