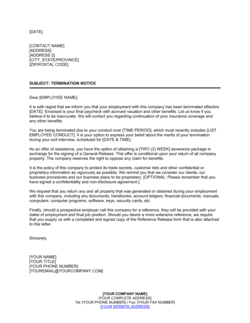 Notice of Termination Template
This notice of termination template has 1 pages and is a MS Word file type listed under our human resources documents.
Sample of our notice of termination template:
OBJECT: TERMINATION NOTICE Dear [EMPLOYEE NAME], It is with regret that we inform you that your employment with this company has been terminated effective [DATE]. Enclosed is your final paycheck with accrued vacation and other benefits. Let us know if you believe it to be inaccurate. We will contact you regarding continuation of your insurance coverage and any other benefits. You are being terminated due to your conduct over [TIME PERIOD], which most recently includes [LIST EMPLOYEE CONDUCT]. It is your option to express yo
All the Templates You Need to Plan, Start, Organize, Manage, Finance & Grow Your Business, in One Place.
Templates and Tools to Manage Every Aspect of Your Business.
8 Business Management Modules, In 1 Place.