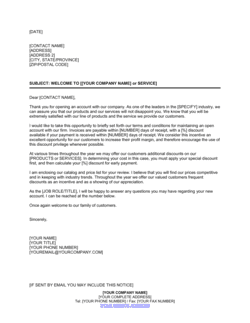 New Open Account Welcome and Terms Letter Template
This new open account welcome and terms letter template has 2 pages and is a MS Word file type listed under our sales & marketing documents.
Sample of our new open account welcome and terms letter template:
OBJECT: WELCOME TO [[YOUR COMPANY NAME] or SERVICE] Dear [CONTACT NAME], Thank you for opening an account with our company. As one of the leaders in the [SPECIFY] industry, we can assure you that our products and our services will not disappoint you. We know that you will be extremely satisfied with our line of products and the service we provide our customers. I would like to take this opportunity to briefly set forth our terms and conditions for maintaining an open account with our firm. Invoices are payable within [NUMBER]
All the Templates You Need to Plan, Start, Organize, Manage, Finance & Grow Your Business, in One Place.
Templates and Tools to Manage Every Aspect of Your Business.
8 Business Management Modules, In 1 Place.