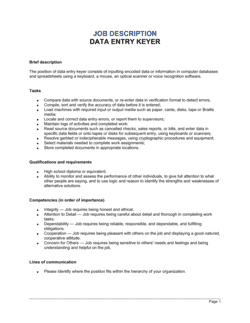 Data Entry Keyer Job Description Template
This data entry keyer job description template has 2 pages and is a MS Word file type listed under our human resources documents.
Sample of our data entry keyer job description template:
Page 1 JOB DESCRIPTION DATA ENTRY KEYER Brief description The position of data entry keyer consists of inputting encoded data or information in computer databases and spreadsheets using a keyboard, a mouse, an optical scanner or voice recognition software. Tasks • Compare data with source documents, or re-enter data in verification format to detect errors; • Compile, sort and verify the accuracy of data before it is entered; • Load machines with required input or output media such as paper, cards, disks, tape or Braille media; • Locate and correct data entry errors, or report them to supervisors; • Maintain logs of activities and completed work; • Read source documents such as canceled checks, sales reports, or bills, and enter data in specific data fields or onto tapes or disks for subsequent entry, using keyboards or scanners; • Resolve garbled or indecipherable messages, using cryptographic procedures and equipment; • S
All the Templates You Need to Plan, Start, Organize, Manage, Finance & Grow Your Business, in One Place.
Templates and Tools to Manage Every Aspect of Your Business.
8 Business Management Modules, In 1 Place.