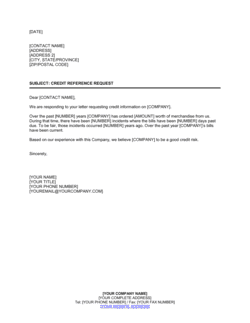 Credit Reference Response Template
This credit reference response template has 1 pages and is a MS Word file type listed under our credit & collection documents.
Sample of our credit reference response template:
OBJECT: CREDIT REFERENCE REQUEST Dear [CONTACT NAME], We are responding to your letter requesting credit information on [COMPANY]. Over the past [NUMBER] years [COMPANY] has ordered [AMOUNT] worth of merchandise from us. During that time, there have been [NUMBER] incidents where the bills have been [NUMBER] days past due. To be fair, those incidents occurred [NUMBER] years ago. Over the past year [COMPANY]'s bills have been current. Based on our experience with this Company, we believe [COMPANY] to be a good credit risk. [
All the Templates You Need to Plan, Start, Organize, Manage, Finance & Grow Your Business, in One Place.
Templates and Tools to Manage Every Aspect of Your Business.
8 Business Management Modules, In 1 Place.