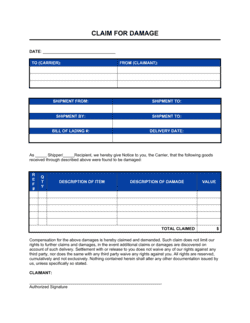 Claim for Damage on Shipped Goods Template
This claim for damage on shipped goods template has 1 pages and is a MS Word file type listed under our production & operations documents.
Sample of our claim for damage on shipped goods template:
DATE CLAIM FOR DAMAGE TO (CARRIER): FROM (CLAIMANT): SHIPMENT FROM: SHIPMENT TO: SHIPMENT BY: SHIPMENT TO: BILL OF LADING #: DELIVERY DATE: As _____ Shipper/_____Recipient, we hereby give Notice to you, the Carrier, that the following goods received through described above were found to be damaged: R E F # Q T Y DESCRIPTION OF ITEM DESCRIPTION OF DAMAGE VALUE TOTAL CLAIMED $ Compensation for the above damages is hereby claimed and demanded. Such claim does not limit our rights to further claims and damages, in the event additional claims or damages are discovered on account of such delivery. Settleme
All the Templates You Need to Plan, Start, Organize, Manage, Finance & Grow Your Business, in One Place.
Templates and Tools to Manage Every Aspect of Your Business.
8 Business Management Modules, In 1 Place.