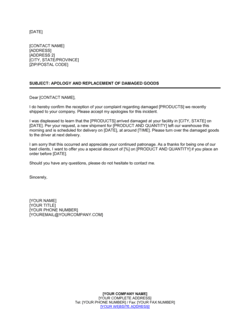 Apology and Replacement of Damaged Goods Template
This apology and replacement of damaged goods template has 1 pages and is a MS Word file type listed under our production & operations documents.
Sample of our apology and replacement of damaged goods template:
OBJECT: APOLOGY AND REPLACEMENT OF DAMAGED GOODS Dear [CONTACT NAME], I do hereby confirm the reception of your complaint regarding damaged [PRODUCTS] we recently shipped to your company. Please accept my apologies for this incident. I was displeased to learn that the [PRODUCTS] arrived damaged at your facility in [CITY, STATE] on [DATE]. Per your request, a new shipment for [PRODUCT AND QUANTITY] left our warehouse this morning and is scheduled for delivery on [DATE], at around [TIME]. Please turn over the damaged goods to the
All the Templates You Need to Plan, Start, Organize, Manage, Finance & Grow Your Business, in One Place.
Templates and Tools to Manage Every Aspect of Your Business.
8 Business Management Modules, In 1 Place.