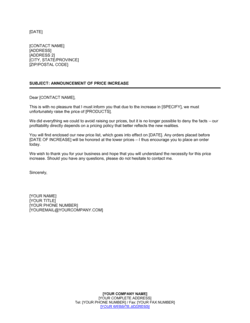 Announcement of Price Increase Template
This announcement of price increase template has 1 pages and is a MS Word file type listed under our sales & marketing documents.
Sample of our announcement of price increase template:
OBJECT: ANNOUNCEMENT OF PRICE INCREASE Dear [CONTACT NAME], This is with no pleasure that I must inform you that due to the increase in [SPECIFY], we must unfortunately raise the price of [PRODUCTS]. We did everything we could to avoid raising our prices, but it is no longer possible to deny the facts – our profitability directly depends on a pricing policy that better reflects the new realities. You will find enclosed our new price list, which goes into effect on [DATE]. Any orders placed before [DATE OF INCREASE] will be h
All the Templates You Need to Plan, Start, Organize, Manage, Finance & Grow Your Business, in One Place.
Templates and Tools to Manage Every Aspect of Your Business.
8 Business Management Modules, In 1 Place.