Checklist Pre-Layoff Template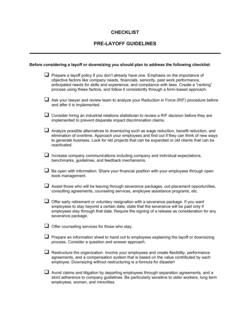 This checklist pre-layoff template has 2 pages and is a MS Word file type listed under our human resources documents.
Sample of our checklist pre-layoff template:
CHECKLIST PRE-LAYOFF GUIDELINES Before considering a layoff or downsizing you should plan to address the following checklist: boxshadowdwn Prepare a layoff policy if you don't already have one. Emphasis on the importance of objective factors like company needs, financials, seniority, past work performance, anticipated needs for skills and experience, and compliance with laws. Create a "ranking" process using these factors, and follow it consistently through a form-based approach. boxshadowdwn Ask your lawyer and review team to analyze your Reduction in Force (RIF) procedure before and after it is implemented.