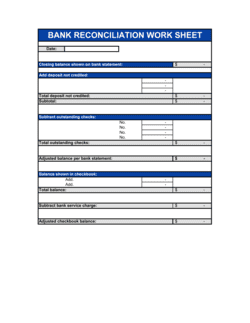 Bank Reconciliation Template
This bank reconciliation template has 1 pages and is a MS Excel file type listed under our finance & accounting documents.
Sample of our bank reconciliation template:
A bank reconciliation compares and matches figures from the accounting records against those shown on a bank statement. Transactions in the accounting records that are not found on the bank statement or vice-versa are said to be outstanding.
All the Templates You Need to Plan, Start, Organize, Manage, Finance & Grow Your Business, in One Place.
Templates and Tools to Manage Every Aspect of Your Business.
8 Business Management Modules, In 1 Place.