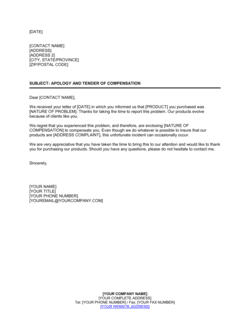 Apology and Tender of Compensation Template
This apology and tender of compensation template has 1 pages and is a MS Word file type listed under our sales & marketing documents.
Sample of our apology and tender of compensation template:
OBJECT: APOLOGY AND TENDER OF COMPENSATION Dear [CONTACT NAME], We received your letter of [DATE] in which you informed us that [PRODUCT] you purchased was [NATURE OF PROBLEM]. Thanks for taking the time to report this problem. Our products evolve because of clients like you. We regret that you experienced this problem, and therefore, are enclosing [NATURE OF COMPENSATION] to compensate you. Even though we do whatever is possible to insure that our products are [ADDRESS COMPLAINT], this unfortunate incident can occasionally
All the Templates You Need to Plan, Start, Organize, Manage, Finance & Grow Your Business, in One Place.
Templates and Tools to Manage Every Aspect of Your Business.
8 Business Management Modules, In 1 Place.