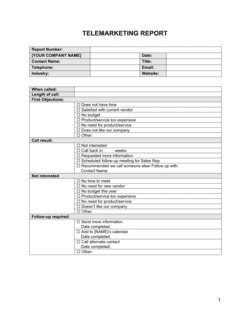 Telemarketing Report Template
This telemarketing report template has 2 pages and is a MS Word file type listed under our sales & marketing documents.
Sample of our telemarketing report template:
TELEMARKETING REPORT Report No. [YOUR COMPANY NAME] Date Contact Name Title Telephone Email Industry Website When called: Length of call: First Objections: box2 Does not have time box2 Satisfied with current vendor box2 No budget box2 Product/service too expensive box2 No need for product/service box2 Doesn't like our company box2 Other: Call result: box2 Not interested box2 Call back in : weeks box2 Requested more information box2 Scheduled follow-up meeting for Sales Rep box2 Recommended we call someone else/ Follow up with: Contact Name: Not interested box2 No time to meet b
All the Templates You Need to Plan, Start, Organize, Manage, Finance & Grow Your Business, in One Place.
Templates and Tools to Manage Every Aspect of Your Business.
8 Business Management Modules, In 1 Place.