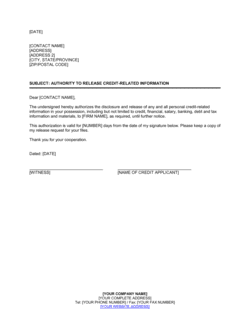 Authority to Release Credit Information Template
This authority to release credit information template has 1 pages and is a MS Word file type listed under our credit & collection documents.
Sample of our authority to release credit information template:
OBJECT: AUTHORITY TO RELEASE CREDIT-RELATED INFORMATION Dear [CONTACT NAME], The undersigned hereby authorizes the disclosure and release of any and all personal credit-related information in your possession, including but not limited to credit, financial, salary, banking, debt and tax information and materials, to [FIRM NAME], as required, until further notice. This authorization is valid for [NUMBER] days from the date of my signature below. Please keep a copy of my release request for your files. Th
All the Templates You Need to Plan, Start, Organize, Manage, Finance & Grow Your Business, in One Place.
Templates and Tools to Manage Every Aspect of Your Business.
8 Business Management Modules, In 1 Place.