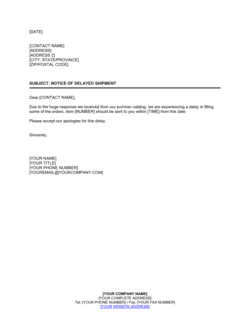 Notice of Delayed Shipment Template
This notice of delayed shipment template has 1 pages and is a MS Word file type listed under our production & operations documents.
Sample of our notice of delayed shipment template:
OBJECT: NOTICE OF DELAYED SHIPMENT Dear [CONTACT NAME], Due to the huge response we received from our summer catalog, we are experiencing a delay in filling some of the orders. Item [NUMBER] should be sent to you within [TIME] from this date. Please accept our apologies for this delay. [YOUR NAME] [YOUR TITLE] [YOUR PHONE NUMBER] [YOUREMAIL@YOURCOMPANY.COM] [YOUR COMPANY NAME] [YOUR COMPLETE ADDRESS] Tel: [YOUR PHONE NUMBER] / Fax: [YOUR FAX NUMBER] [YOUR WEBSITE ADDRESS]
All the Templates You Need to Plan, Start, Organize, Manage, Finance & Grow Your Business, in One Place.
Templates and Tools to Manage Every Aspect of Your Business.
8 Business Management Modules, In 1 Place.