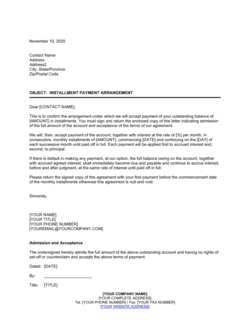 Installment Payment Agreement Template
This installment payment agreement template has 1 pages and is a MS Word file type listed under our credit & collection documents.
Sample of our installment payment agreement template:
OBJECT: INSTALLMENT PAYMENT ARRANGEMENT Dear [CONTACT NAME], This is to confirm the arrangement under which we will accept payment of your outstanding balance of [AMOUNT] in installments. You must sign and return the enclosed copy of this letter indicating admission of the full amount of the account and acceptance of the terms of our agreement. We will, then, accept payment of the account, together with interest at the rate of [%] per month, in consecutive, monthly installments of [AMOUNT], commencing [DATE] and continuing o
All the Templates You Need to Plan, Start, Organize, Manage, Finance & Grow Your Business, in One Place.
Templates and Tools to Manage Every Aspect of Your Business.
8 Business Management Modules, In 1 Place.