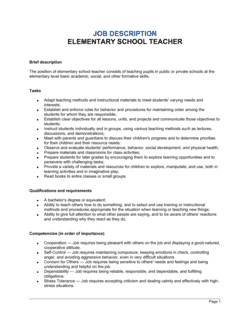 Elementary School Teacher Job Description Template
This elementary school teacher job description template has 2 pages and is a MS Word file type listed under our human resources documents.
Sample of our elementary school teacher job description template:
Page 1 JOB DESCRIPTION ELEMENTARY SCHOOL TEACHER Brief description The position of elementary school teacher consists of teaching pupils in public or private schools at the elementary level basic academic, social, and other formative skills. Tasks • Adapt teaching methods and instructional materials to meet students' varying needs and interests; • Establish and enforce rules for behavior and procedures for maintaining order among the students for whom they are responsible; • Establish clear objectives for all lessons, units, and projects and communicate those objectives to students; • Instruct students individually and in groups, using various teaching methods such as lectures, discussions, and demonstrations; • Meet with parents and guardians to discuss their children's progress and to determine priorities for their children and their resource needs; • Observe and evaluate students' performance, behavior, social development
All the Templates You Need to Plan, Start, Organize, Manage, Finance & Grow Your Business, in One Place.
Templates and Tools to Manage Every Aspect of Your Business.
8 Business Management Modules, In 1 Place.