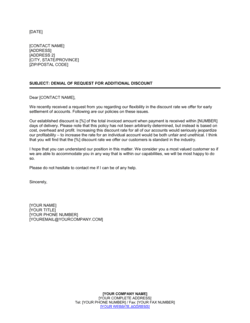 Denial of Request for Additional Discount Template
This denial of request for additional discount template has 1 pages and is a MS Word file type listed under our credit & collection documents.
Sample of our denial of request for additional discount template:
OBJECT: DENIAL OF REQUEST FOR ADDITIONAL DISCOUNT Dear [CONTACT NAME], We recently received a request from you regarding our flexibility in the discount rate we offer for early settlement of accounts. Following are our policies on these issues. Our established discount is [%] of the total invoiced amount when payment is received within [NUMBER] days of delivery. Please note that this policy has not been arbitrarily determined, but instead is based on cost, overhead and profit. Increasing this discount rate for all of our acco
All the Templates You Need to Plan, Start, Organize, Manage, Finance & Grow Your Business, in One Place.
Templates and Tools to Manage Every Aspect of Your Business.
8 Business Management Modules, In 1 Place.