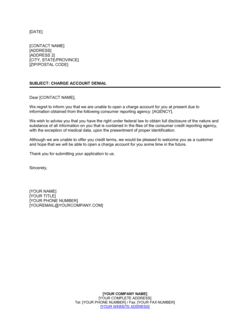 Individual Charge Account Denial Template
This individual charge account denial template has 1 pages and is a MS Word file type listed under our credit & collection documents.
Sample of our individual charge account denial template:
OBJECT: CHARGE ACCOUNT DENIAL Dear [CONTACT NAME], We regret to inform you that we are unable to open a charge account for you at present due to information obtained from the following consumer reporting agency: [AGENCY]. We wish to advise you that you have the right under federal law to obtain full disclosure of the nature and substance of all information on you that is contained in the files of the consumer credit reporting agency, with the exception of medical data, upon the presentment of proper identification. Although
All the Templates You Need to Plan, Start, Organize, Manage, Finance & Grow Your Business, in One Place.
Templates and Tools to Manage Every Aspect of Your Business.
8 Business Management Modules, In 1 Place.