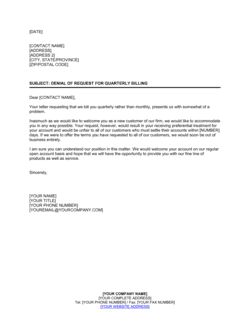 Denial of Request for Quarterly Billing Template
This denial of request for quarterly billing template has 1 pages and is a MS Word file type listed under our finance & accounting documents.
Sample of our denial of request for quarterly billing template:
OBJECT: DENIAL OF REQUEST FOR QUARTERLY BILLING Dear [CONTACT NAME], Your letter requesting that we bill you quarterly rather than monthly, presents us with somewhat of a problem. Inasmuch as we would like to welcome you as a new customer of our firm, we would like to accommodate you in any way possible. Your request, however, would result in your receiving preferential treatment for your account and would be unfair to all of our customers who must settle their accounts within [NUMBER] days. If we were to offer the terms you
All the Templates You Need to Plan, Start, Organize, Manage, Finance & Grow Your Business, in One Place.
Templates and Tools to Manage Every Aspect of Your Business.
8 Business Management Modules, In 1 Place.