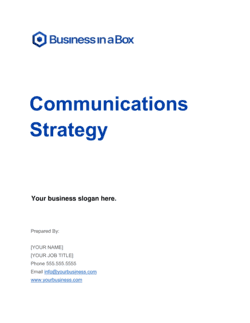 Communications Strategy Template
This communications strategy template has 16 pages and is a MS Word file type listed under our sales & marketing documents.
Sample of our communications strategy template:
Communications Strategy Your business slogan here. Prepared By: [YOUR NAME] [YOUR JOB TITLE] Phone 555.555.5555 Email info@yourbusiness.com www.yourbusiness.com Statement of Confidentiality & Non-Disclosure This document contains proprietary and confidential information. All data submitted to [RECEIVING PARTY] is provided in reliance upon its consent not to use or disclose any information contained herein except in the context of its business dealings with [YOUR COMPANY NAME]. The recipient of this document agrees to inform its present and future employees and partners who view or have access to the document's content of its confidential nature. The recipient agrees to instruct each employee that they must not disclose any information concerning this document to others except to the extent that such matters are generally known to, and are available for use by, the public. The recipient also agrees not to duplicate or distribute or permit others to duplicate or distribute any material contai
All the Templates You Need to Plan, Start, Organize, Manage, Finance & Grow Your Business, in One Place.
Templates and Tools to Manage Every Aspect of Your Business.
8 Business Management Modules, In 1 Place.