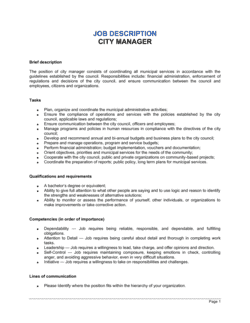 City Manager Job Description Template
This city manager job description template has 2 pages and is a MS Word file type listed under our human resources documents.
Sample of our city manager job description template:
Page 1 JOB DESCRIPTION CITY MANAGER Brief description The position of city manager consists of coordinating all municipal services in accordance with the guidelines established by the council. Responsibilities include: financial administration, enforcement of regulations and decisions of the city council, and ensure communication between the council and employees, citizens and organizations. Tasks • Plan, organize and coordinate the municipal administrative activities; • Ensure the compliance of operations and services with the policies established by the city council, applicable laws and regulations; • Ensure communication between the city council, officers and employees; • Manage programs and policies in human resources in compliance with the directives of the city council; • Develop and recommend annual and bi-annual budgets and business plans to the city council; • Prepare and manage operations, program and service bud
All the Templates You Need to Plan, Start, Organize, Manage, Finance & Grow Your Business, in One Place.
Templates and Tools to Manage Every Aspect of Your Business.
8 Business Management Modules, In 1 Place.