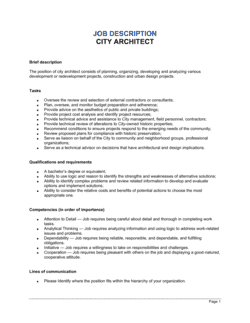 City Architect Job Description Template
This city architect job description template has 2 pages and is a MS Word file type listed under our human resources documents.
Sample of our city architect job description template:
Page 1 JOB DESCRIPTION CITY ARCHITECT Brief description The position of city architect consists of planning, organizing, developing and analyzing various development or redevelopment projects, construction and urban design projects. Tasks • Oversee the review and selection of external contractors or consultants; • Plan, oversee, and monitor budget preparation and adherence; • Provide advice on the aesthetics of public and private buildings; • Provide project cost analysis and identify project resources; • Provide technical advice and assistance to City management, field personnel, contractors; • Provide technical review of alterations to City owned historic properties; • Recommend conditions to ensure projects respond to the emerging needs of the community; • Review proposed plans for compliance with historic preservation; • Serve as liaison on behalf of the City to community and neighborhood groups, professional organiza
All the Templates You Need to Plan, Start, Organize, Manage, Finance & Grow Your Business, in One Place.
Templates and Tools to Manage Every Aspect of Your Business.
8 Business Management Modules, In 1 Place.