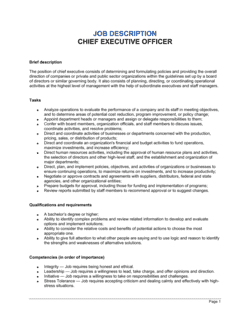 Chief Executive Job Description Template
This chief executive job description template has 2 pages and is a MS Word file type listed under our human resources documents.
Sample of our chief executive job description template:
Page 1 JOB DESCRIPTION CHIEF EXECUTIVE Brief description The position of chief executive consists of determining and formulating policies and providing the overall direction of companies or private and public sector organizations within the guidelines set up by a board of directors or similar governing body. It also consists of planning, directing, or coordinating operational activities at the highest level of management with the help of subordinate executives and staff managers. Tasks • Analyze operations to evaluate performance of a company and its staff in meeting objectives, and to determine areas of potential cost reduction, program improvement, or policy change; • Appoint department heads or managers and assign or delegate responsibilities to them; • Confer with board members, organization officials, and staff members to discuss issues, coordinate activities, and resolve problems; • Direct and coordinate activities of bu
All the Templates You Need to Plan, Start, Organize, Manage, Finance & Grow Your Business, in One Place.
Templates and Tools to Manage Every Aspect of Your Business.
8 Business Management Modules, In 1 Place.