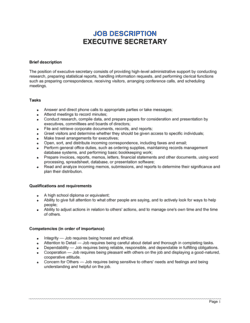 Executive Secretary Job Description Template
This executive secretary job description template has 2 pages and is a MS Word file type listed under our human resources documents.
Sample of our executive secretary job description template:
Page 1 JOB DESCRIPTION EXECUTIVE SECRETARY Brief description The position of executive secretary consists of providing high-level administrative support by conducting research, preparing statistical reports, handling information requests, and performing clerical functions such as preparing correspondence, receiving visitors, arranging conference calls, and scheduling meetings. Tasks • Answer and direct phone calls to appropriate parties or take messages; • Attend meetings to record minutes; • Conduct research, compile data, and prepare papers for consideration and presentation by executives, committees and boards of directors; • File and retrieve corporate documents, records, and reports; • Greet visitors and determine whether they should be given access to specific individuals; • Make travel arrangements for executives; • Open, sort, and distribute incoming correspondence, including faxes and email; • Perform general office
All the Templates You Need to Plan, Start, Organize, Manage, Finance & Grow Your Business, in One Place.
Templates and Tools to Manage Every Aspect of Your Business.
8 Business Management Modules, In 1 Place.