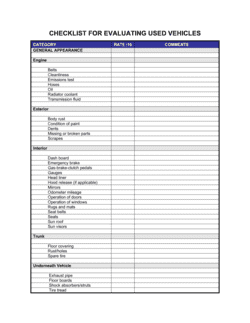 Checklist Purchasing Used Vehicles Template
This checklist purchasing used vehicles template has 2 pages and is a MS Word file type listed under our production & operations documents.
Sample of our checklist purchasing used vehicles template:
CHECKLIST FOR EVALUATING USED VEHICLES CATEGORY RATE /10 COMMENTS IN THE DRIVER'S SEAT Air conditioning Brakes Front and rear defrost Gauges/warning lights Battery Fuel Oil pressure Temperature Head lights Heater and heater fan Motor idle Power windows/mirrors Radio/cassette/CD Seat belts Seat movement control Speedometer Steering wheel tilt Tachometer Turn signals DURING THE TEST DRIVE Cruise control Odometer/speedometer Smoothness of acceleration Tachometer operation Temperature gauge/light Tire noises Wheel alignment OTHER Availability of warranty coverage CATEGORY RATE /10 COMMENTS
All the Templates You Need to Plan, Start, Organize, Manage, Finance & Grow Your Business, in One Place.
Templates and Tools to Manage Every Aspect of Your Business.
8 Business Management Modules, In 1 Place.