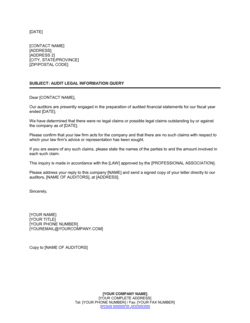 Audit Information Legal Query Template
This audit information legal query template has 1 pages and is a MS Word file type listed under our finance & accounting documents.
Sample of our audit information legal query template:
OBJECT: AUDIT LEGAL INFORMATION QUERY Dear [CONTACT NAME], Our auditors are presently engaged in the preparation of audited financial statements for our fiscal year ended [DATE]. We have determined that there were no legal claims or possible legal claims outstanding by or against the company as of [DATE]. Please confirm that your law firm acts for the company and that there are no such claims with respect to which your law firm's advice or representation has been sought. If you are aware of any such claims, plea
All the Templates You Need to Plan, Start, Organize, Manage, Finance & Grow Your Business, in One Place.
Templates and Tools to Manage Every Aspect of Your Business.
8 Business Management Modules, In 1 Place.