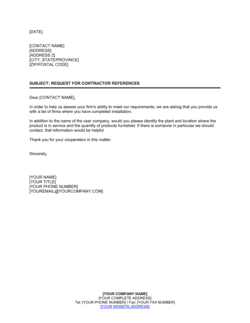 Request for Contractor References Template
This request for contractor references template has 1 pages and is a MS Word file type listed under our consultant & contractors documents.
Sample of our request for contractor references template:
OBJECT: REQUEST FOR CONTRACTOR REFERENCES Dear [CONTACT NAME], In order to help us assess your firm's ability to meet our requirements, we are asking that you provide us with a list of firms where you have completed installation. In addition to the name of the user company, would you please identify the plant and location where the product is in service and the quantity of products furnished. If there is someone in particular we should contact, that information would be helpful. Thank you for your cooperation in this matter.
All the Templates You Need to Plan, Start, Organize, Manage, Finance & Grow Your Business, in One Place.
Templates and Tools to Manage Every Aspect of Your Business.
8 Business Management Modules, In 1 Place.