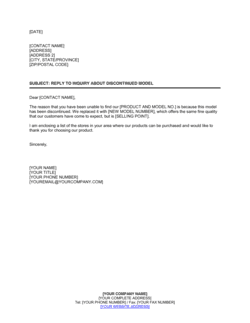 Reply to Inquiry about Discontinued Model Template
This reply to inquiry about discontinued model template has 1 pages and is a MS Word file type listed under our sales & marketing documents.
Sample of our reply to inquiry about discontinued model template:
OBJECT: REPLY TO INQUIRY ABOUT DISCONTINUED MODEL Dear [CONTACT NAME], The reason that you have been unable to find our [PRODUCT AND MODEL NO.] is because this model has been discontinued. We replaced it with [NEW MODEL NUMBER], which offers the same fine quality that our customers have come to expect, but is [SELLING POINT]. I am enclosing a list of the stores in your area where our products can be purchased and would like to thank you for choosing our product. [YOUR NAME] [YOUR TITLE] [YOUR PHONE NUMBER] [YOUREMAIL@YOUR
All the Templates You Need to Plan, Start, Organize, Manage, Finance & Grow Your Business, in One Place.
Templates and Tools to Manage Every Aspect of Your Business.
8 Business Management Modules, In 1 Place.