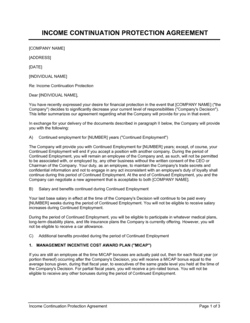 Income Continuation Protection Agreement Template
This income continuation protection agreement template has 3 pages and is a MS Word file type listed under our human resources documents.
Sample of our income continuation protection agreement template:
INCOME CONTINUATION PROTECTION AGREEMENT [COMPANY NAME] [ADDRESS] [DATE] [INDIVIDUAL NAME] Re: Income Continuation Protection Dear [INDIVIDUAL NAME], You have recently expressed your desire for financial protection in the event that [COMPANY NAME] ("the Company") decides to significantly decrease your current level of responsibilities ("Company's Decision"). This letter summarizes our agreement regarding what the Company will provide for you in that event. In exchange for your delivery of the documents described in paragraph II below, the Company will provide you with the following: A) Continued employment
All the Templates You Need to Plan, Start, Organize, Manage, Finance & Grow Your Business, in One Place.
Templates and Tools to Manage Every Aspect of Your Business.
8 Business Management Modules, In 1 Place.