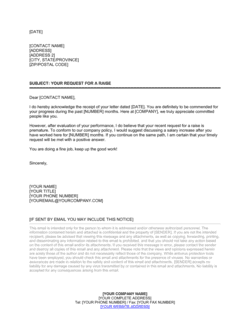 Commendation and Refusal of Request for Raise Template
This commendation and refusal of request for raise template has 1 pages and is a MS Word file type listed under our human resources documents.
Sample of our commendation and refusal of request for raise template:
OBJECT: YOUR REQUEST FOR A RAISE Dear [CONTACT NAME], I do hereby acknowledge the receipt of your letter dated [DATE]. You are definitely to be commended for your progress during the past [NUMBER] months. Here at [COMPANY], we truly appreciate committed people like you. However, after evaluation of your performance, I do believe that your recent request for a raise is premature. To conform to our company policy, I would suggest discussing a salary increase after you have worked here for [NUMBER] months. If you continue on th
All the Templates You Need to Plan, Start, Organize, Manage, Finance & Grow Your Business, in One Place.
Templates and Tools to Manage Every Aspect of Your Business.
8 Business Management Modules, In 1 Place.