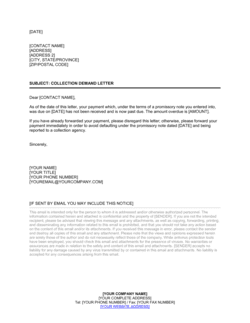 Collection Letter_Following Promissory Note Template
This collection letter_following promissory note template has 1 pages and is a MS Word file type listed under our credit & collection documents.
Sample of our collection letter_following promissory note template:
OBJECT: COLLECTION DEMAND LETTER Dear [CONTACT NAME], As of the date of this letter, your payment which, under the terms of a promissory note you entered into, was due on [DATE] has not been received and is now past due. The amount overdue is [AMOUNT]. If you have already forwarded your payment, please disregard this letter; otherwise, please forward your payment immediately in order to avoid defaulting under the promissory note dated [DATE] and being reported to a collection agency. [YOUR NAME] [YOUR TITLE] [YOUR PHONE NU
All the Templates You Need to Plan, Start, Organize, Manage, Finance & Grow Your Business, in One Place.
Templates and Tools to Manage Every Aspect of Your Business.
8 Business Management Modules, In 1 Place.