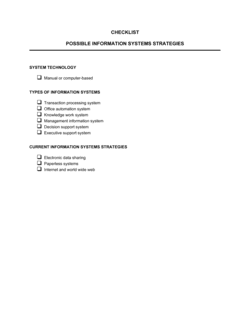 Checklist Possible Information Systems Strategies Template
This checklist possible information systems strategies template has 1 pages and is a MS Word file type listed under our business plan kit documents.
Sample of our checklist possible information systems strategies template:
CHECKLIST POSSIBLE INFORMATION SYSTEMS STRATEGIES SYSTEM TECHNOLOGY boxshadowdwn Manual or computer-based TYPES OF INFORMATION SYSTEMS boxshadowdwn Transaction processing system boxshadowdwn Office automation system boxshadowdwn Knowledge work system boxshadowdwn Management information system boxshadowdwn Decision support system boxshadowdwn Executive support system CURRENT INFORMATION SYSTEMS STRATEGIES boxshadowdwn Electronic data sharing boxshadowdwn Paperless systems boxshadowdwn Internet and world wide web
All the Templates You Need to Plan, Start, Organize, Manage, Finance & Grow Your Business, in One Place.
Templates and Tools to Manage Every Aspect of Your Business.
8 Business Management Modules, In 1 Place.