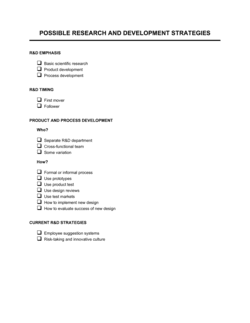 Possible Research and Development Strategies Template
This possible research and development strategies template has 1 pages and is a MS Word file type listed under our business plan kit documents.
Sample of our possible research and development strategies template:
POSSIBLE RESEARCH AND DEVELOPMENT STRATEGIES R&D EMPHASIS boxshadowdwn Basic scientific research boxshadowdwn Product development boxshadowdwn Process development R&D TIMING boxshadowdwn First mover boxshadowdwn Follower PRODUCT AND PROCESS DEVELOPMENT Who? boxshadowdwn Separate R&D department boxshadowdwn Cross-functional team boxshadowdwn Some variation How? boxshadowdwn Formal or informal process boxshadowdwn Use prototypes boxshadowdwn Use product test boxshadowdwn Use design reviews boxshadowdwn Use test markets boxshadowdwn How to implement new design boxshadowdwn How to evaluate success of n
All the Templates You Need to Plan, Start, Organize, Manage, Finance & Grow Your Business, in One Place.
Templates and Tools to Manage Every Aspect of Your Business.
8 Business Management Modules, In 1 Place.