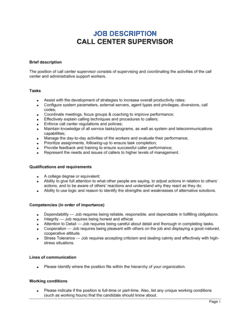 Call Center Supervisor Job Description Template
This call center supervisor job description template has 2 pages and is a MS Word file type listed under our human resources documents.
Sample of our call center supervisor job description template:
Page 1 JOB DESCRIPTION CALL CENTER SUPERVISOR Brief description The position of call center supervisor consists of supervising and coordinating the activities of the call center and administrative support workers. Tasks • Assist with the development of strategies to increase overall productivity rates; • Configure system parameters, external servers, agent types and privileges, diversions, call codes; • Coordinate meetings, focus groups & coaching to improve performance; • Effectively explain calling techniques and procedures to callers; • Enforce call center regulations and policies; • Maintain knowledge of all service tasks/programs, as well as system and telecommunications capabilities; • Manage the day-to-day activities of the workers and evaluate their performance; • Prioritize assignments, following-up to ensure task completion; • Provide feedback and training to ensure successful caller performance; • Represent t
All the Templates You Need to Plan, Start, Organize, Manage, Finance & Grow Your Business, in One Place.
Templates and Tools to Manage Every Aspect of Your Business.
8 Business Management Modules, In 1 Place.