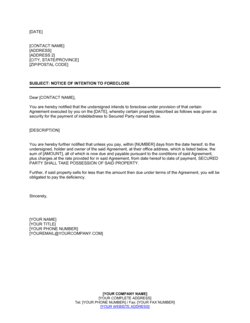 Notice of Intention to Foreclose Template
This notice of intention to foreclose template has 1 pages and is a MS Word file type listed under our finance & accounting documents.
Sample of our notice of intention to foreclose template:
OBJECT: NOTICE OF INTENTION TO FORECLOSE Dear [CONTACT NAME], You are hereby notified that the undersigned intends to foreclose under provision of that certain Agreement executed by you on the [DATE], whereby certain property described as follows was given as security for the payment of indebtedness to Secured Party named below. [DESCRIPTION] You are hereby further notified that unless you pay, within [NUMBER] days from the date hereof, to the undersigned, holder and owner of the said Agreement, at their office address, whic
All the Templates You Need to Plan, Start, Organize, Manage, Finance & Grow Your Business, in One Place.
Templates and Tools to Manage Every Aspect of Your Business.
8 Business Management Modules, In 1 Place.