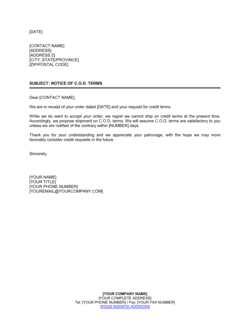 Notice of COD Terms Template
This notice of cod terms template has 1 pages and is a MS Word file type listed under our credit & collection documents.
Sample of our notice of cod terms template:
OBJECT: NOTICE OF C.O.D. TERMS Dear [CONTACT NAME], We are in receipt of your order dated [DATE] and your request for credit terms. While we do want to accept your order, we regret we cannot ship on credit terms at the present time. Accordingly, we propose shipment on C.O.D. terms. We will assume C.O.D. terms are satisfactory to you unless we are notified of the contrary within [NUMBER] days. Thank you for your understanding and we appreciate your patronage, with the hope we may more favorably consider credit requests in th
All the Templates You Need to Plan, Start, Organize, Manage, Finance & Grow Your Business, in One Place.
Templates and Tools to Manage Every Aspect of Your Business.
8 Business Management Modules, In 1 Place.