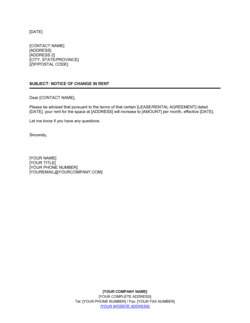 Notice of Change in Rent Template
This notice of change in rent template has 1 pages and is a MS Word file type listed under our real estate documents.
Sample of our notice of change in rent template:
OBJECT: NOTICE OF CHANGE IN RENT Dear [CONTACT NAME], Please be advised that pursuant to the terms of that certain [LEASE/RENTAL AGREEMENT] dated [DATE], your rent for the space at [ADDRESS] will increase to [AMOUNT] per month, effective [DATE]. Let me know if you have any questions. Your name Your title (800) 123-4567 youremail@yourcompany.com Company Name Street, City, State/Province, Zip/Postal code Tel: (000) 000-0000 / Fax: (000) 000-0000 www.yourwebsite.com
All the Templates You Need to Plan, Start, Organize, Manage, Finance & Grow Your Business, in One Place.
Templates and Tools to Manage Every Aspect of Your Business.
8 Business Management Modules, In 1 Place.