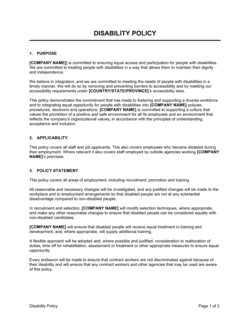 Disability Policy Template
This disability policy template has 3 pages and is a MS Word file type listed under our human resources documents.
Sample of our disability policy template:
DISABILITY POLICY 1. PURPOSE [COMPANY NAME]] is committed to ensuring equal access and participation for people with disabilities. We are committed to treating people with disabilities in a way that allows them to maintain their dignity and independence. We believe in integration, and we are committed to meeting the needs of people with disabilities in a timely manner. We will do so by removing and preventing barriers to accessibility and by meeting our accessibility requirements under [COUNTRY/STATE/PROVINCE]'s accessibility laws. This policy demonstrates the commitment that has made to fostering and supporting a diverse workforce and to integrating equal opportunity for people with disabilities into [COMPANY NAME] policies, procedures, decisions and operations. [COMPANY NAME] is committed to supporting a culture that values the promotion of a positive and safe environment for all its employees and an environment that reflects the company's organizational values, in accordance with the principles of understanding, acceptance and inclusion. 2. APPLICABILITY
All the Templates You Need to Plan, Start, Organize, Manage, Finance & Grow Your Business, in One Place.
Templates and Tools to Manage Every Aspect of Your Business.
8 Business Management Modules, In 1 Place.