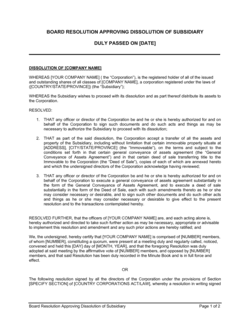 Board Resolution Approving Dissolution of Subsidiary Template
This board resolution approving dissolution of subsidiary template has 2 pages and is a MS Word file type listed under our business plan kit documents.
Sample of our board resolution approving dissolution of subsidiary template:
BOARD RESOLUTION APPROVING DISSOLUTION OF SUBSIDIARY DULY PASSED ON [DATE] DISSOLUTION OF [COMPANY NAME] WHEREAS [YOUR COMPANY NAME] ( the "Corporation"), is the registered holder of all of the issued and outstanding shares of all classes of [COMPANY NAME], a corporation registered under the laws of ([COUNTRY/STATE/PROVINCE]) (the "Subsidiary"); WHEREAS the Subsidiary wishes to proceed with its dissolution and as part thereof distribute its assets to the Corporation. RESOLVED: 1. THAT any officer or director of the Corporation be and he or she is hereby authorized for and on behalf of the Corporation to
All the Templates You Need to Plan, Start, Organize, Manage, Finance & Grow Your Business, in One Place.
Templates and Tools to Manage Every Aspect of Your Business.
8 Business Management Modules, In 1 Place.